×
Outlets
GoodMorning Global Sdn Bhd
Shah Alam, Selangor
Gratitude & Love (Pea Protein) 3 Months Subscription Plan
Plan Description
No 1 Multi-Grain Beverage Brand in Malaysia
Plant-Based Complete Nutrition Protein Beverage
18 Multi-grains
28 Vitamins & Minerals
18 Amino Acids (9 Essential Amino Acids)
High in Protein, Iron, Calcium
Gluten Free, Lactose Free, Cholesterol Free
Share this page to friends:

GoodMorning Global Sdn Bhd
GoodMorning Global Sdn Bhd
Go To Shop

---
---
More Information
Pea Protein is a plant-based complete and balanced nutrition that is lactose free specially formulated with 18 types of premium grains with 28 types of vitamins and minerals. Pea protein is high in protein with 18 types of amino acids in which 9 of it are essential amino acids and it is also high in iron and calcium. Made entirely from plant-based sources, it's a convenient way to add quality protein into your diet as protein is essential to building bones, and body tissues, and participates in practically every process of a cell, hence, often referred as the building blocks of life.
Highlights:
1. Cholesterol and Lactose free - Prevent lactose induced complications.
2. High Protein - Build strong muscles and bones that will keep us moving and help avoid age-related debility and frailty as well as promote growth development.
3. High in Calcium - Making bones strong and healthy, facilitating nerve-to-nerve communication and stimulating muscle contraction.
4. High in Iron - Iron helps our blood shuttle oxygen around the body, thus, providing us with energy and preventing fatigue keeping us well energized throughout the day.
5. High Quality and Digestibility Non-GMO Green Peas - Decreased risk of allergic reactions to major allergens.
Suitable For:
1. Those looking for to add quality protein into their diet.
2. Those looking for pre/post workout supplement.
3. Those looking for a healthy meal replacement.
4. Elderly looking to prevent muscle wasting.
5. Those who want to manage their weight.
6. Those post surgery.
7. Those that follows plant-based diets.
8. Those who are fatigued and gets tired easily.
9. Kids for growth and development support.
10. Those who are vegan.
Preparation Methods:
1. As snack in between meals or for tea time - Add 4 scoops (~30g) of Pea Protein into 120ml, stir well and serve. Recommended serving: 1-2 servings per day.
2. As meal replacement - Add 6-8 scoops of Pea Protein into 400ml water, stir well and serve.
1st month subscription plan includes:
1 x Pea Protein 1kg
4 x GSure Sachets 20g
1 x Shaker 500ml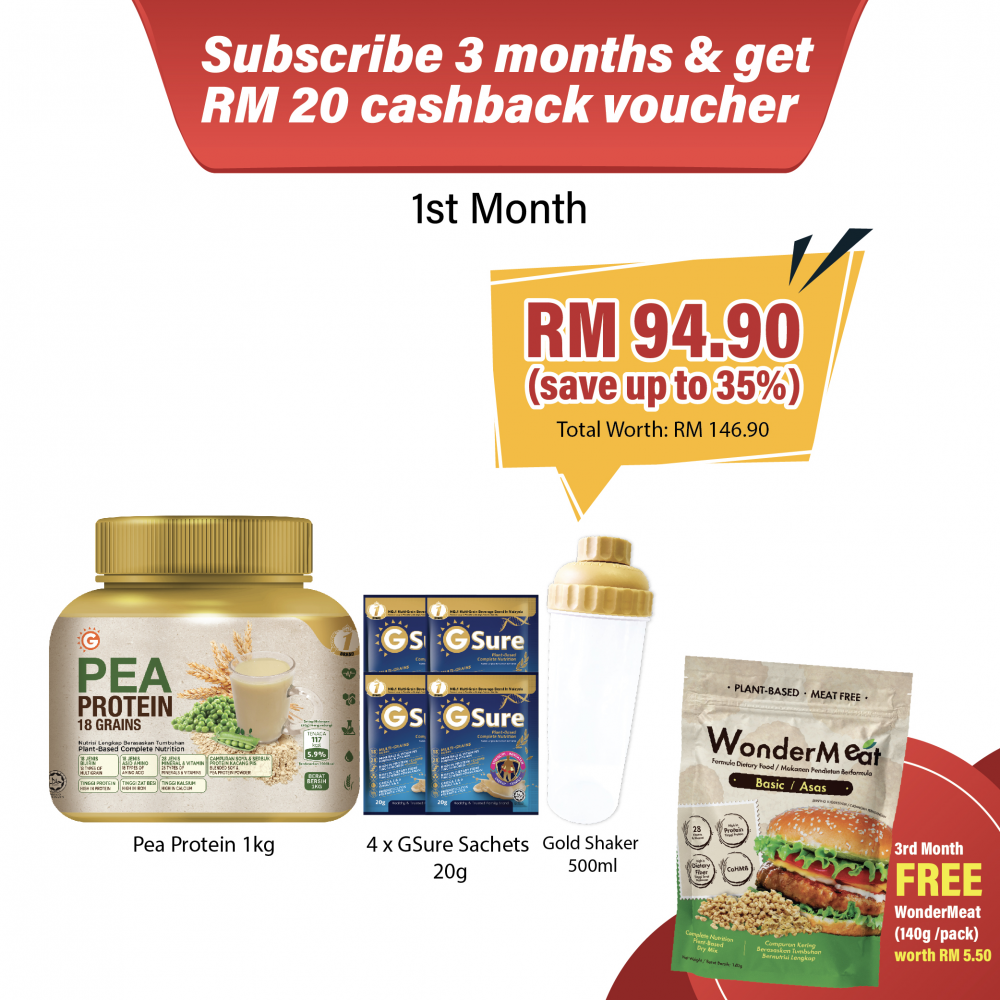 2nd month subscription plan includes:
1 x Pea Protein 1kg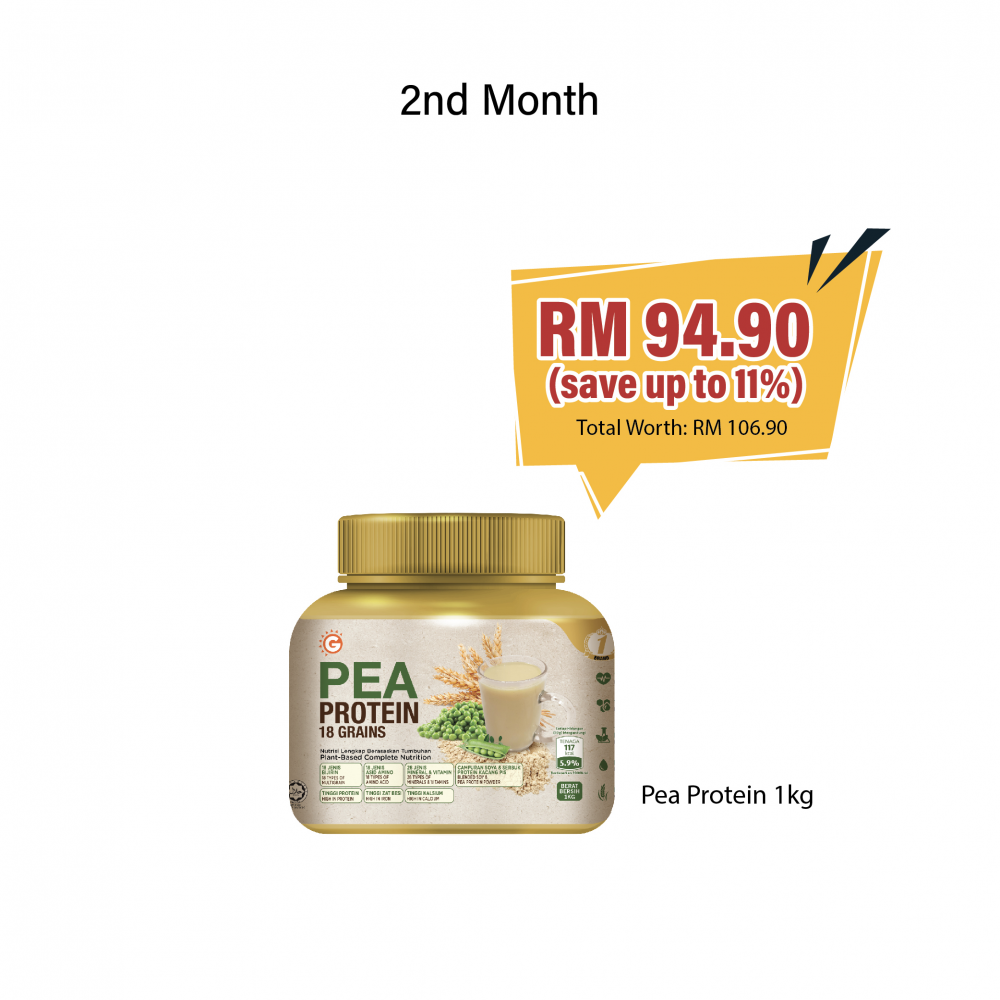 3rd month subscription plan includes:
1 x Pea Protein 1kg
8 x Pea Protein Sachets 20g
4 x GSure Sachets 60g
1 x WonderMeat (140g/pack)
*FREE 1 x RM 20 Cashback Voucher