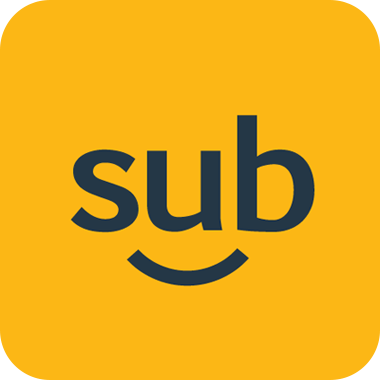 SUBPLACE APP
Download the app now!
Open
Question
Answer
How do I register for an account?
Registering for your own SUBPLACE Account, follow the steps below:
1. Open your SUBPLACE website
2. Click on [Login/Sign Up] button
3. Enter your Full Name, Mobile Number, Email Address and click [sign up].
4. You will receive an email to complete the verification process.
5. Click through the link and create your own password.
6. Your account is active now.
How do I update/ edit my personal details?
Click on the [Profile] button on the top right corner.
Click on [Account Settings] button and you may change your details.
How do I add my payment cards?
Click on [Profile] button on the top right corner.
Click on [Account Settings] button.
Click [Payment Cards] button.
Click [Add New Payment Card] button and you may add your payment card details.
How do I subscribe or unsubscribe from SUBPLACE newsletters?
SUBPLACE Newsletter is an email notification system which sends you the latest campaigns and events to keep you up to date with the best deals online.

If you wish to unsubscribe from the Newsletter, follow the steps below:
1) Go to [Profile] button and then click on [Account Settings] button
2) Click on [Account Information] button
3) Toggle off the [Receive Newsletter from SUBPLACE]
How do I get a receipt for my order?
You will receive a receipt through email after submitting payment.
Subscribers can also access all purchase receipts under [Order History] button in your [Profile].
What payment methods are supported by SUBPLACE?
SUBPLACE accepts payments via credit or debit card - Visa or MasterCard. Regular payment subject to certain Seller.
Why were my orders cancelled?
SUBPLACE may automatically cancel your subscription should a Seller not be able to fullfill your order. SUBPLACE will fully refund your payment.

If your order accepted by Seller but you didn't perform payment after that, your order could be cancelled by Seller. Service and warranty will be discrupted.
What should I do if the automatic payment fails?
If your bank or financial institution declined the charge, go to [Profile] button on the top right corner. Select [Account Settings].
Click on [Order History] and select [View Details] and click on [Pay Now] button. If you're still having trouble, you can try to select another card.
Will I receive payment reminders if payment fails?
Yes. You will receive a notification/ emaill/ SMS in the event of a failed auto deduction.
Can I change my address after placing an order?
For SUB plan, we regret to inform you that you can't change the address after placing the order. Any re-location action, you may cancel and re-order.

For SUB+, any re-llocation upon approval from each of the Seller.
Can I get a refund for my cancelled order?
Yes, you will receive a full refund if you order is cancelled by a Seller.
When will I get my order? What is the delivery lead time for my order?
Courier Delivery Lead Time is the number of days it takes for the order to arrive from the day a SUBPLACE Logistics Partner has picked up the order from the Seller.

For NinjaVan, for items shipped from panisular Malaysia, items will be picked up and delivered to you within 1-3 days. For other locations, items to be picked up and delivered to you within 5 days.

If you have selected NinjaVan service, to track your order status, go to https://www.ninjavan.co/en-my/tracking

For other delivery service providers, it depends on Seller arrangement.
How do I check my order status? What is my order's Shipping Status?
Our Seller will provide you a tracking number after order is successfully paid. All the delivery status can be tracked on our system.

If you are engaging with NinjaVan:

If your parcel status is on hold due to inaccurate order details or is suspected to be lost, kindly drop an email to: support_my@ninjavan.co with the following details: Name, Contact Number and Address.

Re-attempts will be based on delivery policies agreed to between Sellers and Ninja Van.
For more info drop an email at: support_my@ninjavan.co

For delayed shipments, you may contact the Ninja Van CS Hotline : 011-17225600 for more information.

If you are engaging with other service provider, please contact your Seller.
Can I change my mode of payment?
No. Currently there is only one mode payment, which is auto-deduction. Our system will only perform auto monthly deductions via registered bank card.
How can I check the shipping fee of a product?
The shipping fee is included in all subscription plans.
I made multiple orders, how will the shipping fee be calculated?
The shipping fee is included in all subscription plans.
Can I check out multiple products from different sellers in my Shopping Cart all at once?
Yes, you can. But each subscription will be split to 1 order each.
What information does SUBPLACE collect and why?
We will only collect your information for operational purposes.

For example: to process orders, billing cycles and credibility check.
Will my information be shared with third party?
We only use information provided to us for transaction fulfillment. We do not share or sell your information to any other party for any reason whatsoever.

All your data will be shared between SUBPLACE and particular Seller.
Why is my account being limited?
Click on [Contact Us] or [Chat Now], you can live chat with our Customer Service Support Team or email to info@subplace.com for more info.
Why did I fail to register my new account?
If you were not be able to register your new account, there is a possibility that your email has already been registered with SUBPLACE.
Can I change/reset my password?
Yes you can.
Click on [Profile] button on the top right corner.
Click on [Change Password].
What do I do if I forget my password?
If you forget your password, click on [Forgot Password] in the login page ad follow the steps to reset your password.
Can I access SUBPLACE on multiple devices?
Yes, you can log into your SUBPLACE account on multiple devices at the same time.
Why did my login attempt fail?
Your account will be locked if you or someone entered the wrong ID or password 3 times in a row for your account protection. Kindly click on [Forgot password] to reset it should this happen.
How do I select the courier for my purchases and what are the types of Delivery Services offered?
You can choose the courier company you want to use to have your items shipped to you. Do note that this will be subject to individual Seller and whether they have enabled that particular courier company as a shipping option for their store.
I received the wrong item/there are missing items in my order.
Please go to the brand store page and initiate chat with the Seller. Seller will instruct you on the next steps. Or you can live chat with SUBPLACE's Customer Service Team
I did not receive an order confirmation email after submitting my payment. What do I do?
Please check your email SPAM folder. All payment, confirmation and delivery process are automated and will be sent via email notification to you. If the problem persists, please get in touch with our Customer Service Team or email to info@subplace.com
What kind of debit/credit card that I can use for my subscription?
You can only register with Malaysia issued debit and credit card for your monthly billing deduction.
Why can't I check out with my credit card?
Checkout failures are likely due to one of the following reasons:

1) System Limitations
Some system limitations have been put in place for your credit card transactions.

2) Misuse of Credit Cards
Credit card payments on SUBPLACE are subject to transaction processing rules imposed by card schemes (e.g. Mastercard, Visa, etc.). Credit cards with activities suspected to be in violation of such transaction processing rules will not be honoured with you checkout on SUBPLACE.

If your payment cannot proceed, do check with your bank.
I have already made my payment through Credit card, why is my payment status still "unpaid"?
Please log out and log in again. The screen shall be updated. If the issue persist, please contact our Customer Service Support Team for a quiker resolution.
How do I make a payment using credit/debit card? Is it safe?
During checkout, you will be able to choose a payment option after confirming your address and shipping method. If this is your first time using a credit/ debit card payment, click on [Add New Payment Card] button and enter your card details. SUBPLACE assures you that your credit card information is kept safe and confidential.
How can I contact Customer Service?
Please log into your SUBPLACE account and click on [Contact Us] or you can click on [Chat Now] button on your bottom right corner. A friendly care line representative will be there to assist you.
What happens if I do not receive my order? Can I ask for a refund?
Please get in touch with your Seller or Customer Service Team to proceed with cancellation and/or refund requests.
When and how can I apply for a refund?
SUBPLACE system will proceed refund to your payment card automatically after you cancel the order (Before Seller confirm your purchase). It approximately takes 14 working days for the refund process.
When will I receive my refund?
The refund process will take 14 working days excluding public holidays.
If my order contains more than one item but only one is damaged, can I accept the rest of the items and return only the damaged item?
The best way to resolve this issue is to contact the Seller directly. Please login to your account and initate a chat with the Seller aka seller to reach a faster resolution.
Who bears the shipping fee to return the parcel to seller?
Subscribers shall bear the cost of return shipping.