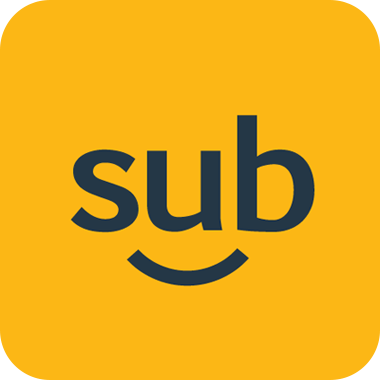 SUBPLACE APP
Download the app now!
Open
TERMS OF SERVICE
1. INTRODUCTION
1.1 Welcome to the SUBPLACE website (the "Platform"). These Terms of Service govern your access and use of the Platform and the use of any services, functions, information made available to you. Please read the following Terms of Service carefully before using this Site or registering a SUBPLACE account ("Account") so that you are aware of your legal rights and obligations with respect to ABLETECH SOLUTIONS SDN.BHD (Company Registration No. 1332315-V) and its affiliates and subsidiaries (individually and collectively, "we", "us" or "our"). The "Services" we provide or make available include (a) the Site, (b) the services provided by the Site and software made available through the Site, and (c) all information, linked pages, features, data, text, images, photographs, graphics, music, sounds, video (including live streams), messages, tags, content, programming, software, application services (including, without limitation, any mobile application services) or other materials made available through the Site or its related services ("Content"). Any new features added to or augmenting the Services are also subject to these Terms of Service. These Terms of Service govern your use of Services provided by SUBPLACE. If you do not agree to SUBPLACE Terms and Conditions, do not access and/or use this Platform and/or the Services.
1.2 The Services include an online platform service that provides a place and opportunity for the sale of goods between the Subscriber ("Subscriber") and the Biz Partner ("Seller") (collectively "you", "Users" or "Parties"). The actual contract for sale is directly between Subscriber and Seller and SUBPLACE is not a party to that or any other contract between Subscriber and Biz Partner and SUBPLACE strictly accepts no obligations in connection with any such contract. Parties to such transaction will be entirely responsible for the sales contract between them, the listing of goods, warranty of purchase and the like. SUBPLACE is not involved in the transaction between Users. SUBPLACE may or may not pre-screen Users or the Content or information provided by Users. ABLETECH SOLUTIONS SDN. BHD reserves the right to remove any Content or information posted by you on the from time to time.
1.3 Before becoming a User of the Site, you must read and accept all of the terms and conditions in, and linked to, these Terms of Service and you must consent to the processing of your personal data as described in the Privacy Policy set out at SUBPLACE.
1.4 SUBPLACE reserves the sole and absolute right to change, modify, suspend or discontinue all or any part of this Site or the Services at any time or upon notice as required by local laws from time to time without further notice. SUBPLACE may release certain Services or their features in a beta version, which may not work correctly or in the same way the final version may work, and SUBPLACE shall not be held liable in such instances. SUBPLACE may also impose limits on certain features or restrict your access to parts of, or the entire, Site or Services in its sole discretion and without notice or liability.
1.5 SUBPLACE reserves the sole and absolute right to refuse to provide you access to the Site or Services or to allow you to open an Account for any reason.
BY USING SUBPLACE SERVICES OR REGISTERING AN ACCOUNT, YOU GIVE YOUR IRREVOCABLE ACCEPTANCE OF AND CONSENT TO THE TERMS OF THIS AGREEMENT, INCLUDING THOSE ADDITIONAL TERMS AND CONDITIONS AND POLICIES REFERENCED HEREIN AND/OR LINKED HERETO.
IF YOU DO NOT AGREE TO THESE TERMS, PLEASE DO NOT USE OUR SERVICES OR ACCESS THE SITE. IF YOU ARE UNDER THE AGE OF 18 OR THE LEGAL AGE FOR GIVING CONSENT HEREUNDER PURSUANT TO THE APPLICABLE LAWS IN YOUR COUNTRY (THE "LEGAL AGE"), YOU MUST GET PERMISSION FROM A PARENT OR LEGAL GUARDIAN TO OPEN AN ACCOUNT AND THAT PARENT OR LEGAL GUARDIAN MUST AGREE TO THE TERMS OF THIS AGREEMENT. IF YOU DO NOT KNOW WHETHER YOU HAVE REACHED THE LEGAL AGE, OR DO NOT UNDERSTAND THIS SECTION, PLEASE DO NOT CREATE AN ACCOUNT UNTIL YOU HAVE ASKED YOUR PARENT OR LEGAL GUARDIAN FOR HELP. IF YOU ARE THE PARENT OR LEGAL GUARDIAN OF A MINOR WHO IS CREATING AN ACCOUNT, YOU MUST ACCEPT THE TERMS OF THIS AGREEMENT ON THE MINOR'S BEHALF AND YOU WILL BE RESPONSIBLE FOR ALL USE OF THE ACCOUNT OR COMPANY SERVICES USING SUCH ACCOUNT, WHETHER SUCH ACCOUNT IS CURRENTLY OPEN OR CREATED LATER.
2. PRIVACY
2.1 Your privacy is very important to us at SUBPLACE. To better protect your rights we have provided the Privacy-Policy. Privacy Policy to explain our privacy practices in detail. Please review the Privacy Policy to understand how SUBPLACE collects and uses the information associated with your Account and/or your use of the Services (the "User Information"). By using the Services or providing information on the Site, you:
(i) consent to SUBPLACE collection, use, disclosure and/or processing of your Content, personal data and User Information as described in the Privacy Policy;
(ii) agree and acknowledge that the proprietary rights of your User Information are jointly owned by you and SUBPLACE ; and
(iii) shall not, whether directly or indirectly, disclose your User Information to any third party, or otherwise allow any third party to access or use your User Information, without SUBPLACE prior written consent.
2.2 Users in possession of another User's personal data through the use of the Services (the "Receiving Party") hereby agree that, they will (i) comply with all applicable personal data protection laws with respect to any such data; (ii) allow the User whose personal data the Receiving Party has collected (the "Disclosing Party") to remove his or her data so collected from the Receiving Party's database; and (iii) allow the Disclosing Party to review what information have been collected about them by the Receiving Party, in each case of (ii) and (iii) above, in compliance with and where required by applicable laws.
3. TRADEMARKS AND COPYRIGHTS
3.1 SUBPLACE grants you a limited and revocable license to access and use the Services subject to the terms and conditions of these Terms of Service. All proprietary Content, trademarks, service marks, brand names, logos and other intellectual property ("Intellectual Property") displayed in the Site are the property of SUBPLACE and where applicable, third party proprietors identified in the Site. No right or licence is granted directly or indirectly to any party accessing the Site to use or reproduce any Intellectual Property, and no party accessing the Site shall claim any right, title or interest therein. By using or accessing the Services you agree to comply with the copyright, trademark, service mark, and all other applicable laws that protect the Services, the Site and its Content. You are restricted to copy, distribute, republish, transmit, publicly display, publicly perform, modify, adapt, rent, sell, or create derivative works of any portion of the Services, the Site or its Content. You shall not, without our prior written consent, mirror or frame any part or whole of the contents of this Site on any other server or as part of any other website. The entire contents of the Platform also are protected by copyright as a collective work under Malaysia copyright laws and international conventions. All rights are reserved.
4. LIMITATION OF LIABILITIES
4.1 The Platform and all data and/or information contained therein and/or the Services are provided on an "as is" and "as available" basis without any warranties, claims or representations made by SUBPLACE of any kind either expressed, implied or statutory with respect to the Platform and/or the Services, including, without limitation, warranties of non-infringement of third party rights, title, merchantability, satisfactory quality or fitness for a particular purpose. All data and/or information contained in the Platform and/or the Services are provided for informational purposes only.
4.2 Without limiting the foregoing, SUBPLACE does not warrant that the Platform and/or the Services or the functions contained therein will be available, accessible, uninterrupted, timely, secure, accurate, complete or error-free, that defects, if any, will be corrected, or that this Platform and/or the server that makes the same available are free of viruses, clocks, timers, counters, worms, software locks, drop dead devices, trojan-horses, routings, trap doors, time bombs or any other harmful codes, instructions, programs or components.
4.3 SUBPLACE and all of its respective officers, employees, directors, agents, contractors and assigns shall not be liable to you for any losses whatsoever or howsoever caused (regardless of the form of action) arising directly or indirectly in connection with:
(a) any access, use and/or inability to use the Platform or the Services;
(b) reliance on any data or information made available through the Platform and/or through the Services. You should not act on such data or information without first independently verifying its contents;
(c) any system, server or connection failure, error, omission, interruption, delay in transmission, computer virus or other malicious, destructive or corrupting code, agent program or macros; and
(d) any use of or access to any other website or webpage linked to the Platform, even if we or our officers or agents or employees may have been advised of, or otherwise might have anticipated, the possibility of the same.
4.4 Any risk of misunderstanding, error, damage, expense or losses resulting from the use of the Platform and/or Services is entirely at your own risk and SUBPLACE shall not be liable therefore.
5. ACCOUNTS AND SECURITY
5.1 Some functions of our Services require registration for an Account by selecting a unique user identification ("User ID") and password, and by providing certain personal information. If you select a User ID that SUBPLACE in its sole discretion, finds offensive or inappropriate, SUBPLACE has the right to suspend or terminate your Account. You may be able to use your Account to gain access to other products, websites or services to which we have enabled access or with which we have tied up or collaborated. SUBPLACE has not reviewed, and assumes no responsibility for any third-party content, functionality, security, services, privacy policies, or other practices of those products, websites or services. If you do so, the terms of service for those products, websites or services, including their respective privacy policies, if different from these Terms of Service and/or our Privacy Policy, may also apply to your use of those products, websites or services.
5.2 You agree to (a) keep your password confidential and use only your User ID and password when logging in, (b) ensure that you log out from your account at the end of each session on the Site, (c) immediately notify SUBPLACE of any unauthorised use of your Account, User ID and/or password, and (d) ensure that your Account information is accurate and up-to-date. You are fully responsible for all activities that occur under your User ID and Account even if such activities or uses were not committed by you. SUBPLACE will not be liable for any loss or damage arising from unauthorised use of your password or your failure to comply with this Section.
5.3 You agree that SUBPLACE may for any reason, in its sole discretion and with or without notice or liability to you or any third party, immediately terminate your Account and your User ID, remove or discard from the Site any Content associated with your Account and User ID, withdraw any subsidies offered to you, cancel any transactions associated with your Account and User ID, temporarily withhold any sale proceeds or refunds, and/or take any other actions that SUBPLACE deems necessary. Grounds for such actions may include, but are not limited to, actual or suspected (a) extended periods of inactivity, (b) violation of the letter or spirit of these Terms of Service, (c) illegal, fraudulent, harassing, defamatory, threatening or abusive behaviour (d) having multiple user accounts, (e) buying products on the Site for the purpose of commercial re-sale, (f) abnormal or excessive purchase of products from the same Seller or related group of Sellers, (f) voucher abuse (including, but not limited to, selling of vouchers to third parties and abnormal or excessive use of vouchers on the Site), or (g) behaviour that is harmful to other Users, third parties, or the business interests of SUBPLACE Use of an Account for illegal, fraudulent, harassing, defamatory, threatening or abusive purposes may be referred to law enforcement authorities without notice to you. If a legal dispute arises or law enforcement action is commenced relating to your Account or your use of the Services for any reason, SUBPLACE may terminate your Account immediately with or without notice.
5.4 Users may terminate their Account if they notify SUBPLACE in writing (of their desire to do so. Notwithstanding any such termination, Users remain responsible and liable for any incomplete transaction (whether commenced prior to or after such termination), shipment of the product, payment for the product, or the like, and Users must contact SUBPLACE after he or she has promptly and effectively carried out and completed all incomplete transactions according to the Terms of Service. SUBPLACE shall have no liability, and shall not be liable for any damages incurred due to the actions taken in accordance with this Section. Users waive any and all claims based on any such action taken by SUBPLACE
6. APPLICABLE LAW AND JURISDICTION
6.1 These Terms of Service and/or other SUBPLACE Terms and Conditions shall be interpreted and governed by the laws in force in Malaysia. Subject to the section on Arbitration below, you hereby agree to submit to the jurisdiction of the Courts of Malaysia.
7. ARBITRATION
7.1 Any controversy, claim or dispute arising out of or relating to these Terms of Service and/or other SUBPLACE Terms and Conditions or the breach, termination or invalidity thereof shall be referred to and settled by arbitration in accordance with the Arbitration Rules of the Asian International Arbitration Centre ("AIAC") held in Kuala Lumpur, Malaysia. The arbitral tribunal shall consists of a sole arbitrator who is legally trained and who has experience in the information technology field in Malaysia and is independent of either party. The place of arbitration shall be Malaysia. Any award by the arbitration tribunal shall be final and binding upon the parties.
7.2 Notwithstanding the foregoing, (X) reserves the right to pursue the protection of intellectual property rights and confidential information through injunctive or other equitable relief through the courts.
8. TERMINATION
8.1 In addition to any other legal or equitable remedies, we may, without prior notice to you, immediately terminate or revoke any or all of your rights granted under these Terms of Service and/or other SUBPLACE Terms and Conditions. Upon any termination of these Terms of Service and/or other SUBPLACE Terms and Conditions, you shall immediately cease all access to and use of the Platform and we shall, in addition to any other legal or equitable remedies, immediately revoke all password(s) and account identification issued to you and deny your access to and use of this Platform in whole or in part. Any termination of this agreement shall not affect the respective rights and obligations (including without limitation, payment obligations) of the parties arising before the date of termination. You furthermore agree that SUBPLACE shall not be liable to you or to any other person as a result of any such suspension or termination. If you are dissatisfied with the Platform and/ or with any terms, conditions, rules, policies, guidelines, or practices of SUBPLACE, in operating the Platform and/or providing services, your sole and exclusive remedy is to discontinue using the Platform.